How to use
Right-Click on the Site Panel, The menu of this extension appears in context-menu.


Do it first.
Select "Config..." and Set your Account Number in the dialog for configuration.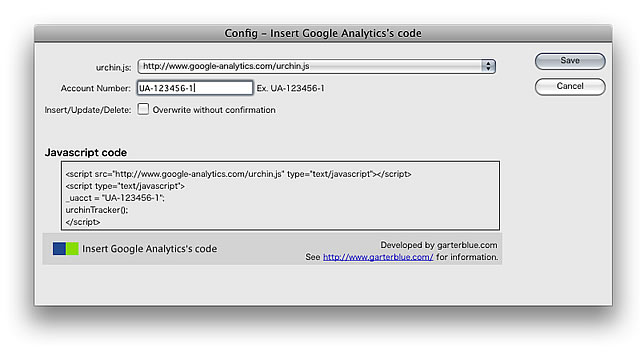 Context-menu in the Site Panel
Insert/Update Code

(urchin.js)
No code is in the document -> Insert Google Analytics's Javascript code.
Code is already in the document -> Update(Remove and Insert) Google Analytics's Javascript code.
When the document is attached the Dw's template, Doesnot Insert/Update.
When the document is opening, Doesnot Insert/Update.


Remove Code

(urchin.js)
Remove code.
When the document is attached the Dw's template, Doesnot Insert/Update.
When the document is opening, Doesnot Insert/Update.


Report

(urchin.js)
Report about Google Analytics's Javascript code.

OK : No problem.
WARNING : No problem but Google Analytics's code is not here.(Out of analytics)
ERROR : Problem(s). It seems to be needed to update.




Config...

Show the dialog for configuration.



urchin.js

http:// or https://.

Account Number

Your Account Number.
Ex. UA-123456-1

Overwrite without confirmation.

When the checkbox is On, this extension works to insert/update/remove the Google Analytics's Javascript code WITHOUT confirmation.

Insert the Current Code(ga.js)

(ga.js)
Insert Google Analytics's Javascript code(ga.js).
When the document is attached the Dw's template, Doesnot Insert/Update.
When the document is opening, Doesnot Insert/Update.

3STEP to Update
Sorry, there is not yet the function to update by one command.
STEP1. Remove urchin.js (If you use urchin.js)
Do "Remove Code".
You can remove "urchin.js" by this command.


STEP2. Set Account Number
Select "Config..." and set account number for ga.js.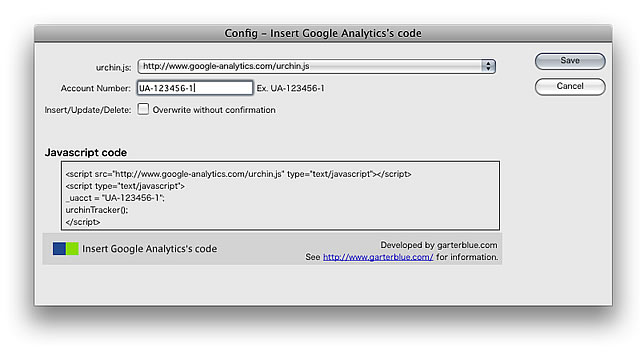 STEP3. Insert ga.js
Do "Insert the Current Code(ga.js)".